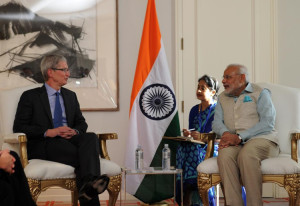 Prime Minister Narendra Modi began his one-on-one engagement with the tech honchos of Silicon Valley with a 15-minute interaction with Apple chief executive Tim Cook.
During the brief meeting, Cook told the prime minister that Apple has a major connect with India and that the company's co-founder, the late Steve Jobs, went to the South Asian country for inspiration. "We have a unique tie with India. Our founder Steve Jobs went to India for inspiration," Apple CEO Tim Cook tells PM.
Cook, who met Modi at his hotel, was among the first top CEOs to meet the premier on the first day of his arrival.
Modi is set to have a series of meetings with the tech titans of Silicon Valley. The lining up of such meetings include Who's Who of the tech world in this part of the US, including MicroSoft's Satya Nadella, Google's Sundar Pichai, Qualcomm's Paul Jacobs, Cisco's John Chambers, Adobe's Shantanu Narayen and TiE's Venk Shukla.
After his arrival at Norman Y. Minte San Jose International Airport, Modi – who is the first Indian prime minister to visit the US West Coast since Indira Gandhi did in 1982 – had an informal meeting with the Indian diaspora first and then left for the Tesla Motors facility.
Tesla's chief executive Elon Musk then gavethe PM, who is an ardent supporter of new and renewable energy, a tour of the company's trend-setting electric car plant here.
"Prime Minister Modi and I talked about electricity generation and how there are ways to skip ahead with it as with cellphones," Musk, also the company's principal engineer, inventor and investor, said later.